PSCCHC Press
West Port Said Container Terminal welcomes call from CMA CGM's NEMO service || CONTAINER MANAGEMENT || JANUARY/FEBURARY 2020
West Port Said Container Terminal has received its first call from the new CMA CGM NEMO service which links North and South Europe and the Mediterranean with Australia and Singapore. For Full Article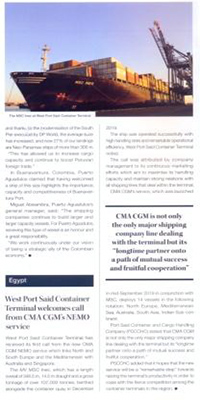 ---
Egypt west port-said receives new STS crane|| Container Management || March 2019
Port Said Container & Cargo Handling Company (PSCCHC) took delivery of a super post - Panamax ship-to-shore(STS) gantry crane with the aim to increase competitive-ness and handle large vessels.
---
Egypt west port-said upgrades yard || Container Management || june 2016
As part of its terminal expansion project. West Port Said container terminal has finished furnishing and upgrading its storage yard.
The yard has been equipped with six rub-ter-tyred gantry cranes, which will be followed by six more.
The total yard area of the terminal is now 572.000 sq m and the terminal has a capacity of 1.5m teu.
The terminal, which has recently increased its draught to 16m , recieved the first call of Hanjin's MD1 service in May 2016.
---
West Port Said Expansion Completed || Container Management april/may 2016
Port Said Container and Cargo Handling Company has announced that its expansion of the the West Port Said container terminal in Egypt is complete.
The quay has been deepened and strengthened and the draught has been deepened so that the the terminal can handle ships with draughts of 14.5m from the north and 14.6m from the south.
---
CKYHE adds West Port Said to mediterranean service || Container Management april/may2016
The CKYHE alliances has announced its MD1 pendulum service will begin calling at West Port Said from May1,2016.
---
Quay Deepening paying off at PSCCHC
Port Said Container Terminal in Port Said West is maintaining its records for handling vessels with greater draughts, especially since the completion work to deepen the quay to 14.6 m in April this year.
---
Anther boost for PSCCHC
Portsaid Container Terminal (PSCT) in WestPortSaid operated by state-owned PortSaid Container & cargo Handling Co. (PSCCHC)is continuing with its development plans in order to cope with increased future volumes and container vessel capacities.
---
Terberg supplies PSA and Port Said || JULY/AUGUST 2013
According to "Container Management" magazine, Terberg Tractors Malaysia ,the joint-venture company between the Dutch Terberg Group and Sime Darby, has started delivery of the first 49 of 229 terminal tractors .
The remaining units are to be delivered by February 2014; the PSA also has options for a further 330 units.
---
West PortSaid terminal receives deep draught ship
West PortSaid terminal receives deep draught ship
---
China-European marketing tour for PSCCHC
According to "Container Management" magazine - July/August 2012, Admiral Ahmed Mansour Al-Araby, Chairman and CEO of Port-Said Container & Cargo Handling Company (PSCCHC), recently undertook a successful marketing tour to China, Belgium and Germany, which includes visiting global shipping lines dealing with West Port Said.
---
Port- Said improves draught || April/May 2012
According to "Container Management" magazine, The draught at the Port-Said container terminal has increased to 13.6m from/ to South and from/ to North in the middle of the quay. Vessels with draughts between 13.3m-13.6m are required to notify the terminal 72 hours prior to arrival in order to make the necessary arrangements.
---
Rejoining The Millionaire Club || January/February 2011
According to "Container Management" magazine ,PSCCHC has retained its CM World Top Container Ports "Millionaire" Status
by handling a total of 1,024,126 TEU in the year ending December 31,2010.
---
El-Mal newspaper|| 13 July 2009
PSCCHC attracts new lines through benefits to the customers
---
El-Mal newspaper|| 28 June 2009
PSCCHC is considering new plans to address the decline in the handling rates
---
El-Mal newspaper|| 28 June 2009
Holding Co. for maritime & land transport Requests to acquire the third station of the east Port Said
---
Maritime Transport newspaper|| July 2009
Investment Minister confirms support for the demands of Port Said Company for Container Handling of expansion towards the east
---
Cargo Systems June 2009||June 2009 Tariffs fall at Port Said
The Egyptian Port-Said Container & Cargo Handling Company(PSCCHC) has introduced a new pricing policy in response to the world economic downturn.The company said it wanted to encourage exporters, importers and investors, and attract them to co-operate with its container terminal and dry port.The tariff of electric power supply for export reefer containers has been reduced by 50%, while import containers have been granted 10 days free storage as from discharging date, without calculating any extra charges for handling equipment.The seven-day free storage period for egyptian export containers has been inccreased to 10days.The objective of such procedures is to ease the pressure on Egyptian exports and enlarge the volume of importscontainers, encouraging our clients and sharing with them through such discount,the company said in a statement.In May, PSCCHC welcomed the HS Debussy, making the first call of the New India Sub Continent Europe Service(Nice) at the port. Nice deployes seven 4000-4500 teu container vessels.June will see the first call at PSCCHC of UASC Asia Mediterranean Container Service, which deploys seven 4200teu vessels.
---
Top Performers in The Mediterranean - ranked in TEU || 2009
According to "World Port Development" magazine , Port Said Port came in the 2nd rank in handling volume among Mediterranean Container Ports.
---
Top 100 Container Ports || 2009
According to "World Port Development" magazine ,Port Said rank 31 with TEU throughput 2009: 3.470.000(+6.52%)
---
World Top Container Ports || 2008
According to "World Top Container Ports" magazine , Port Said rank 34 with TEU throughput 2008: 3.250.000(+15%)
---